Vist 480 gange.
Tranny Life in Copenhagen
Rebecca's Homepage startede i 1999 som en turistguide med min artikel 'Tranny life in Copenhagen' som jeg netop havde fĂĽet publiceret i den engelske Tranny Guide.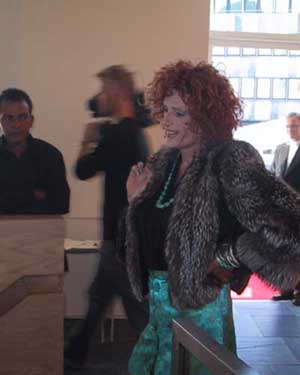 My name is Rebecca and I'm living in Copenhagen. I'm an easy-going tranny; love my life as male/female and visa versa. Quite an inbetweeny! It brings me so much pleasure and gives me the opportunity to express my whole personality.
Being a tranny is a most wonderful and positive part of my life. Crossdressing since my teens I worked as a showgirl and male/female DJ in gay discos during the disco era. Today, being confident with my role(s) in life, my aim is to be a trendily dressed streetgirl.
From 1997-2001 I were the editor of the Danish tranny magazine TiDs, and in 2002 I became part of the editorial team on the Scandinavian tranny magazine Attitude.
Furthermore I joined the editorial team on the danish transgender forum TransPortalen for four years.
I've written A Personal Report on Copenhagen for Tranny Guide since 1999, and ind 2000 my article on Copenhagen were nominated for Best Personal International Report.
During MIX•Copenhagen LesbianGayBiTrans Film Festival 2012 I were invited to introduce the transgender movie from 1968 "The Queen" in Cinemateket at The Danish Film Institute. This were a great new experience to me, and I'll continue looking around finding new and interesting aspects to explore within the tranny world.
Š Rebeccas Homepage
Tranny Life in Copenhagen
Looking back the world is changing – talking tolerance even to the better
In general Denmark has a very relaxed attitude towards gay people and trannies, and especially younger trannies go everywhere to have fun with their friends.
The strong gay community has made a tremendous public relations job for the past 25 years or so. In 1989 Denmark was the first country to legalise gay weddings, and you'll find the Danish society much more tolerant than many other countries around the world.
The TV-organisations should always be a safe place for insecure trannies to go, and will be needed as long as new-born trannies have problems finding their way, and needs the support from other more experienced sisters. However attitudes have changed rapidly over the last twenty years, and being a tranny in Denmark shouldn't be a problem to anyone today. Fortunately it seems like the young generation of trannies quickly realize the much wider opportunities to express themselves, not only in the club venue, but in public as well.
Of course we have to maintain pressure politically and publicly – and we are.
In the last couple of years trannies have appeared to be the 'Darlings of the Press' in Denmark. Although having experienced tremendous interest from every media, we're well aware that focus might chance we really try to capitalise on the current situation. We have taken the opportunity to spread general awareness, but what might be more important, we actively try to increase our influence in a more political way.
My 'happy-go-lucky' and socialising soul require some uplifting activities from time to time
This is why we in 98 established a tranny night out named Butterfly Club at Never Mind, a most friendly and relaxed gay bar with a small dancefloor, occasionally presenting dragshow, stand-up and live jazz music. The Butterfly Club inspired by enthusiastic trannies returning from London telling about the WayOut Club. Being run on private initiative it were a much smaller venue of course, like a tiny waterhole in the big city, and the party went on for nearly 9 years with regular meetings every month. But new places open and close like a glimse nowadays. Butterfly Club had it's fair share of popularity andlike a butterfly it folded the wings in 2007.
Exciting events happens if you go for it
During June 2002 five more trannies and I were photographed for Bianco Footwear's new campaign hitting the streets in August 2002. The advert said "He didn't know about our MEN'S COLLECTION" and the pictures in the catalogue show six pretty, good-looking trannies on six different and very personal pictures. This specific catalogue reached cult status in Denmark, Norway and Sweden, where the Bianco shops are situated. Especially young people, boys and girls, were extremely positive about our participation in this campaign. The company, too, were so excited about the result that they hired us to do a fashion show, too. The Original Bianco Girls went to Aarhus in Jutland to do the catwalk on the opening night on a new mediacafĂŠ/nightclub – and that too was well received. A string of fashion shows followed during autumn 2002 and by now we're known in the tranny community as 'the Catwalk Queens'. It were the first time trannies had been part of a highly professional campaign for a fashion company in Scandinavia, and I'm really excited about the positive cooperation we've had with the Bianco crew, the extremely talented photographer Casper Sejersen and the wonderful make-up artist Dennis Knudsen. Everybody acted so professional and serious about transvestism in dealing with trannies during the whole campaign. Full salary for modelling, hotel booking and travel cost – everything was being paid for. A professional choreograph, stylist and make-up artist at hand made the best out of our performance. You might check out Bianco Footwear to have a look on their latest collection.
Enough said! Ok, here we go. What to do and where to go in Copenhagen?
If you've read my former articles in Tranny Guide you might already know about my personal favourite place to go: Café Intime (wonderful old-fashioned& piano bar).
Living in Copenhagen most of my life I know the city truly well and I've tried and tested most places mentioned in my list below, and gathered lots of further information with great help from my tranny friends.
I'll concentrate my efforts supplying you with a new and updated list of addresses and contacts – including an introduction to the most popular spots in town. You'll find it easy buying ladies' clothes, lingerie and make-up in Copenhagen, as most places are very friendly to trannies. Denmark has a very relaxed attitude towards trannies and I'm looking forward to meeting new sisters from all over the world here in Wonderful Copenhagen, the coolest town in the world (2008) and the most liveable city (2013) both according to Monocle Magazine.
My personal list below will bring you more specific informations on Tranny Copenhagen. I really do hope that my informations would ease your way, making your visit in Tranny Copenhagen as pleasant as possible.
Love from Rebecca – the Gogirl
All dressed up for a wonderful evening, dancing or meeting new friends at a cosy little bar is a big part of enjoying the life of a woman. This list includes the most frequented and popular bars, cafés and discotheques amongst trannies in Copenhagen right now.
Amigo Bar Schønbergsgade 4
Gay/mixed
crowd. Very crowded late night.
Centralhjørnet Kattesundet 18
Might be the oldest gay bar in the world, but has a most joyous atmosphere.
Cosy Bar StudiestrĂŚde 24
One of the most popular late night gay bar with a small dance floor. Live DJ's and drag show during weekend. Cosy Bar has been one of the most popular 'waterholes' in the gay community for decades, and trannies and drags have always been a big part of the game. Check out their web site for further information's.
GAY Copenhagen Vester Voldgade 10
Popular new gay bar and Nightclub.
Intime AllĂŠgade 25
Old-fashioned gay/mixed piano bar situated vis-Ă -vis the spot where TiD had their regular meetings through decades. We often drop by and are a most welcome part of the crowd. The new ownership on CafĂŠ Intime keeps up the tradition having live music during the evening. Fellow musicians or even guests are often invited to join the sessions. If you have a good jazz feeling you might be the next guest star on CafĂŠ Intime.
Jailhouse Copenhagen StudiestrĂŚde 12
Jailhouse is the place for a nice and relaxed evening in town. Check out their web site for further informations.
Kiss Kiss Gay Club StudiestrĂŚde 21
Popular gay/lesbian bar. Nice, friendly atmosphere.
Masken Bar &CafĂŠ StudiestrĂŚde 33
Popular gay/lesbian bar. Nice, friendly atmosphere.
Never Mind Nørre Voldgade 2
A relaxed gay bar with a small dance floor.
Oscar Bar & CafĂŠ RĂĽdhuspladsen 77
Popular gay bar, cafĂŠ & restaurant in town. Nice, friendly atmosphere, and trannies are most welcome. Gay/mixed crowd. Very busy during evening and weekend.
Tight Hyskenstræde 10
Tight is a new combined restaurant, café and cocktail bar. Tight attracks a mixed crowd and the atmosphere is relaxed.
Maybe you want to try a new colour in lipstick or a sexy new perfume. Then you'll be happy to know that it is very easy buying makeup in Copenhagen, as most makeup shops are utmost friendly to trannies. My personal choice is Matas who do run shops all over Copenhagen.
If you're looking for specialist shops for makeup or a full makeup service you'll find our favourites here.
Anker og Løvbo Amagerbrogade 196
Full range of Kryolan Theatrical Makeup. Many trannies and drags amongst costumers in mix with actors and professional make-up artists.
Kryolan Sankt Peder Stræde 25A
Full range of Theatrical Makeup. Many trannies and drags amongst costumers in mix with actors and professional make-up artists.
It's strictly business to run a hotel and I've never heard about any hotel in Copenhagen that wouldn't welcome you as a tranny as long as you behave properly and pay your bill. On the other hand we love to choose our own favourites, and this list includes personal recommendations on the most visited hotels by trannies staying in Copenhagen.
Avenue Hotel Åboulevard 29
This hotel is a legend among Swedish and Norwegian trannies staying in Copenhagen. Nice rooms and nice prices. In walking distance Town Hall Square/Pedestrian Street, Tivoli and all the interesting places mentioned in this list.
Ibsens Hotel Vendersgade 23
Nice and friendly all woman run hotel in quiet area. Central situated. Nice rooms and nice prices. In walking distance to Never Mind. Very popular hotel for trannies to stay visiting Copenhagen.
Imperial Hotel Farimagsgade 9
Situated in the heart of Copenhagen next to Town Hall Square/Pedestrian Street and Tivoli.
Jørgensen Hotel Rømersgade 11
Nice and friendly low-budget hotel in quiet area. Central situated. In walking distance Town Hall Square/Pedestrian Street, Tivoli and all the interesting places mentioned in this list. Popular with trannies who rather spend their money on shopping and clubbing than hotel bills in Copenhagen.
Hotel Kong Frederik Vester Voldgade 25
Situated in the heart of Copenhagen next to Town Hall Square/Pedestrian Street and Tivoli.
Urban House Colbjørnsensgade 11
Hotel Urban is an automatic self check in house. After booking and payment, you will receive an email from us where you have the possibility to check in online.
Wakeup Copenhagen
Wakeup Copenhagen runs 3 hotels located in the heart of Copenhagen within walking distance of the Tivoli Gardens, Town Hall Square, the pedestrian shopping streets and the waterfront. A cool, modern, budget hotel in central Copenhagen. Prices starts at 400 DKK.
Hotel Windsor Frederiksborggade 30
Hotel Windsor is Copenhagens oldest Gayhotel. In walking distance Town Hall Square/Pedestrian Street, Tivoli and all the interesting places mentioned in this list.
Visiting a new town for the first time it's a great help to know where to go and ask for further information's about the gay and tranny scene. Here you'll find the answer on most questions wanting to join the game in Copenhagen, now including the most popular datingsites and online communities amongs danish trannies.
Blus Købmagergade 52
Blus is an organization for Lesbian, Gay, Bi, Trans and Queer students, and serves as a social platform for LGBTQ students in and around Copenhagen. Based in the Student House every Tuesday evening.
Bøssehuset Refshalevej 2
The place for queer theatre, drag show, cabaret, music and other events around the gay and tranny scene.
Copenhagen Burlesque
Copenhagen Burlesque is a playful performing arts and costume party – a magnificent playground of the outlandish and bizarre
Copenhagen Pride
Copenhagen Pride
Copenhagen Pride shall help to create equality for homosexuals, bisexuals and transsexuals in Denmark. We create visibility through our annual festival where we visibility for the LGBT community through a week of festive and cultural spots, where we welcome all sexualities, genders, ages, ethnicities and religions welcome.
LGBT+ Danmark
Danish National Association for Gays & Lesbians, Bisexuals and Transgenders.
Manifest Fetish Club
Manifest are a club for fetishists, but members come from many different sexual subcultures; voyeurs and exhibitionists, swingers, BDSM players, drag queens and kings, transvestites and transsexuals, goths, gays, lesbians and bisexuals.
Rainbow Business Denmark
Here is your guide to gay and lesbian tourism in Copenhagen
Sabaah
Sabaah is an organization for gay, bisexual and transgender persons with ethnic minority backgrounds. Sabaah organizes cultural events, movie nights, etc.
SMIL
S&M organisation located on the outskirts of Copenhagen. Membership/guests welcome. Having their own accommodation they'll arrange meetings during the week and different kind of weekend parties. Trannies into fetish and S&M welcome. Check their Websites or call for information.
TID
Organisation for transvestites / transgender people in Denmark. TiD cover all of Denmark and arrange social gatherings in Aarhus and Copenhagen twice a month. Further details on the website.
T-Lounge Society
The friendly society for T-people in Denmark. Warehouse 9 have a monthly event, T-Lounge.
If you're lucky too fit less than size 42 (Euro) you might have all the opportunity in the world to buy a lovely pair of shoes. But needing bigger size it's a problem wherever you are to get a nice shoe in the right size. I've made this list to ease your way.
Giant Shoes Søborg Hovedgade 69
Giant Shoes have a vide range of bigsize fashion-shoes from size 41-46
Unfortunately wigs are pretty expensive in Denmark, especially compared to prices in France and US. Anyway we do have a string of helpful wig suppliers in town, and these shops are the most sought by trannies. Please make an appointment for better time and service.
Carina Erwin Gammel Kongevej 131
Full range of wigs. You'll find the staff most helpful and confident with trannies.
House of Waldorf Dalgas Boulevard 59
Full range of wigs. You'll find Carina most helpful and confident with trannies.
Frida Davidsens Nørre Farimagsgade 17
Full range of wigs, You'll find Elisabeth most helpful and confident with trannies.
Parykcentret Sankt Jacobs Plads 6
Full range of wigs, and my absolute favourite amid wig suppliers.You'll find Mette and Vivi most helpful and confident with trannies.
Toftild Frederiksberg Alle 50
Full range of wigs. You'll find Adeleine and Claus most helpful and confident with trannies.